Posted on June 3, 2013
Filed Under Queer Lit News | Comments Off on The Lambda Literary Awards Finalists Reflect A Strong Year for Queer Nonfiction.
Let's get this out of the way first:  John Irving's In One Person is a finalist for a Lambda Literary Award.  As queer readers will recall, I loved this book. It is the best queer novel of 2012 and may well be the best queer novel ever.  Yes, the Great American Queer Novel has been written by a straight man.  And it is both surprising and accurate that the category it is a finalist in is:  "Bisexual Literature."
The other big news here is the strength of this year's queer nonfiction.  Cynthia Carr's superb Dav
id Wojnarowicz biography, Fire in the Belly is a finalist. And fortunately, because of the way the Lammys are categorized, it won't be competing with Christopher Bram's Eminent Outlaws.  Ms. Carr's
book is a finalist in the "Gay Memoir/Biography" category while Christopher Bram's history of gay (male) literature since World War Two is a finalist for the "LGBT Nonfiction" prize.  The Lambda Literary Awards judges face a difficult choice here, because Eminent Outlaws is competing with Dale Carpenter's Flagrant Conduct.  Mr. Carpenter's book is, I believe, an under-appreciated gem.  It is both a page-turner and a thoroughly researched scholarly account of the story of the Lawrence v. Texas Supreme Court case.  And I have written of my admiration of Eminent Outlaws before. (Twice actually.) A difficult choice for the judges, but fortunately for me, I'm not one of them.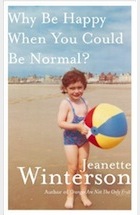 Now let us consider some of the other finalists.  Without breaking them down into their respective categories, the following books are also finalists this year:  Alison Bechdel's superb Are you My Mother?, David Halperin's provocative How to be Gay, Reynold's Price's Midstream:  An Unfinished Memoir, Jeanette Winterson's interesting Why be Happy When You Could be Normal? and Keith Boykin's excellent anthology:  For Colored Boys Who Have Considered Suicide When the Rainbow is Still Not Enough.  You can click here for the full list of finalists, but I believe even this shortened list confirms the fact that 2012 was a surprisingly strong year for queer nonfiction.
Congratulations to all the nominees.
The Lambda Literary Awards will be announced tonight at The Great Hall at Cooper Union, 7 East Seventh Street New York, New York
UPDATE 6/4/13:  Last night it was announced that John Irving's In One Person won the "Bisexual Nonfiction Award", Cynthia Carr won the "Gay Memoir/Biography Award" for Fire in the Belly, Dale Carpenter's Flagrant Conduct won the "LGBT Nonfiction Award" and Jeanette Winterson won the "Lesbian Memoir/Biography Award" for Why be Happy When you Could be Normal?.  Click here for the full list of winners.
Comments