Posted on April 19, 2010
Filed Under Book Review | 529 Comments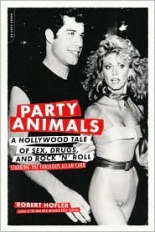 This queer reader doesn't usually find himself reviewing books with titles like Party Animals: A Hollywood Tale of Sex Drugs and Rock and Roll Starring Allan Carr.  Let alone those with covers like the one shown on the left. No, what attracted me to this book was the simple fact that it was written by Richard Hofler.  Mr. Hofler is the author of The Man Who Invented Rock Hudson, which I loved.  And once again Mr. Hofler does not disappoint. This is a meticulously researched biography of Allan Carr. Yes, Allan Carr.
In the acknowledgements, Mr. Hofler describes how it all began with a rhetorical question: "Is Allan Carr a book?" A more concise question might simply be: Why? Allan Carr was, after all, the man who brought us such laughably bad movies as, Can't Stop the Music, Grease II and–let us not forget–Survive:  the cheapie Mexican version of the Andes plane crash survivors' cannibalism.  He is also perhaps the only person to be banned from producing the Oscars–the direct result of his casting Rob Lowe in a singing duet with Snow White. It's really pretty easy to write this man off.  But like it or not, Allan Carr was the most powerful gay man in Hollywood for over a decade.  He produced the most successful movie musical of all time:  Grease.  (That is until Mamma Mia knocked Grease off this pedestal.) And he also produced La Cage aux Folles:  the first Broadway musical with two gay male leads.
And yet, Allan Carr remains a pathetic enigma–a grandiose Hollywood flop.  I found myself straining for some larger theme beneath the narration of his life.  Could he be a latter-day Jay Gatsby?  His parties, like Gatsby's, were legendary.  Even those who laughed at him behind his back, dutifully showed up for his parties, including a two-night affair–the guests required to show up in alphabetical order.  If Gatsby had his pink suits, Carr had his caftans.  Allan Carr even entertained the contemporary Meyer Wolfsheim–Roy Cohn–in his basement disco.  One can almost feel Mr. Hofler himself straining to to find the great significance of his subject.  As when he paraphrases F. Scott Fitzgerald in the title of the epilogue: "No Second Acts." Fitzgerald didn't live to see his own "second act."  And neither did Allan Carr.  That is perhaps where their similarity ends.
Whatever your reasons for picking up this book, I suspect that you, like me, will find it difficult to put down.  And the reason for this is quite simply the quality of Mr. Hofler's writing.  His chapter on Allan Carr's Oscars show is, quite frankly, hilarious. Mr. Hofler also describes Allan Carr's high school experiences in detail and illustrates how these experiences informed the movie production of Grease.
The most relevant–and topical–chapter is the one dealing with the original production of La Cage.  It's easy to forget that this show was very much Allan Carr's brainchild. And it's doubtful it would have ever come together without his leadership. Particularly interesting to me was the role of Harvey Fierstein. Mr. Fierstein wrote the book for the musical and he also had some pretty strong opinions on the production. He believed that the role of Albin should be played by an out gay man.  And he hated the ending: a Rockettes-style dance number at the end of which the "real" woman appears.  These quasi-political questions will be re-visited once again, because the show's revival opened on Broadway last night.
I wish I could report that this delightful book is flawless.  But alas it is not.  I unfortunately found a most egregious error on page 174.  Here Mr. Hofler describes Village Voice columnist Arthur Bell as a member of ACT-UP.  But Mr. Bell died in 1984. And ACT-UP was formed in 1987.  Proofreading truly is the dying art.
Nevertheless, I recommend this book.
Party Animals:  A Hollywood Tale of Sex Drugs and Rock and Roll Starring Allan Carr is published by Da Capo.
Comments