Posted on August 31, 2010
Filed Under Queer Lit News | 349 Comments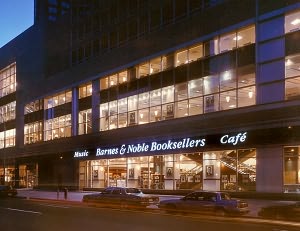 Three years ago, I reported the sad, sad news that my neighborhood's Barnes and Noble was closing. The reason for this was not declining sales of books. Indeed, this particular store–in Chelsea–was making a healthy profit. No, this time the villain was a familiar one in New York City: its landlord.
Now comes more bad news for readers:  Barnes and Noble's Lincoln Triangle store is closing.
The Lincoln Triangle Barnes and Noble is a particularly beautiful bookstore and its closing is a tremendous loss to New York City.  In addition to hosting a wide variety of author readings, it also presented memorable performances by Broadway stars and cabaret artists.
And what is the cause for this cultural catastrophe?  Why has Barnes and Noble chosen to shutter one of the most beautiful bookstores in the world? Are people buying fewer books there?  No. Are the performers failing to attract standing room only audiences? No.  There is one reason why this store is closing:  its landlord is greedy.
Three years ago, the landlord of my local Barnes and Noble chose to double its rent. Barnes and Noble made the rational decision to close the store.  And for two and a half years the huge space was vacant. Then recently a new tenant moved in:  Trader Joe's.
So here is my message to all you New Yorkers living in the Lincoln Center area:  Say goodbye to F. Scott Fitzgerald, Edmund White, Raymond Chandler, Toni Morrison, Andrew Holleran, Ernest Hemingway, James Baldwin, Virginia Woolf, Armistead Maupin, Barbara Pym and all those other writers of quality fiction. Say goodbye to the plays of Tennessee Williams, Eugene O'Neill, Oscar Wilde, Harold Pinter, Edward Albee, Arthur Miller, Christopher Marlowe and William Shakespeare. Say goodbye to all the quality non-fiction. Say goodbye to performances by Barbara Cook, Michael Feinstein, Cheyenne Jackson and Carol Channing.
And say hello to gourmet olives.
UPDATE 12/20/10:  It's official:  The new tenant is Century 21.
Comments